Although we are confident that we have, by far, the best staff in Tennessee and Georgia caring for your loved ones, it is nice when it is recognized. Four of the Resident Assistants from our Tennessee assisted living communities have received The Caring Heart Award from Alzheimer's Tennessee at the 15th Annual Caring Hearts Recognition Ceremony in Knoxville, TN on April 25, 2013. Alzheimer's Tennessee bestows this recognition upon the 'unsung' heroes, or those who go above and beyond caring for those who face dementia. Their peers or supervisors at the communities nominated the four SSMG caregivers who received this admirable award.
"We could not be more proud of these employees and the dedication they have to our residents," said Christina Trentham, Regional Director of Operations, Senior Solutions Management Group. "They have a spiritual gift of unconditional love and compassion for not only our residents, and their families, but any life they touch. They are a model for caregivers and a blessing to our communities." Recognized at the luncheon were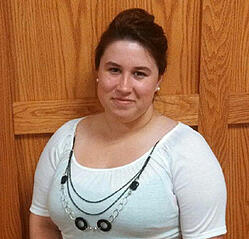 Ashley Rawls - Resident Assistant
Lakewood Place Assisted Living - Loudon, TN
Nominated by Britney Rice, Wellness Director
"Ashley has been with Lakewood Place for three years. Her caring and dedicated nature has become more obvious with each passing day. She is dependable, reliable, and committed to providing quality care to our residents. Ashley comes to work every day with a smile and a positive attitude. She is always willing to do whatever is needed to care for our residents. We are blessed to have such a young and talented caregiver who influences and touches so many lives, as part of our Lakewood family."
Nicole Braden - Resident Assistant
River Oaks Place - Loudon, TN
Nominated by Dorothy Reyes, Wellness Director
"Even though Nicole hasn't been with us very long, her dedication to our residents is obvious. Her calm and caring manner shines through whenever she is assisting residents in our Memory Care neighborhood. Nicole is always putting the residents and their needs at the top of her priorities, by coming in on her days off or working over when needed. We are so blessed to have someone with her compassion, patience, and respect as part of our River Oaks Place family."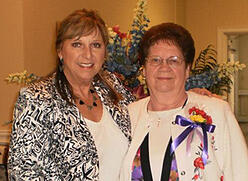 Mary Gibson - Resident Assistant
River Oaks Place - Lenoir City, TN
Nominated by Melissa Hensley, Business Office Manager
"When Mary joined our team, she instantly connected to the residents, especially those in our Memory Care neighborhood. She treats each resident as though they are her family and always wears a lovely and comforting smile. It is obvious that the residents adore her and always look forward to her return - they miss her when she is away. We are proud and honored to have such a dedicated, loving, dependable, and enthusiastic caregiver here. She is a blessing the River Oaks Place community."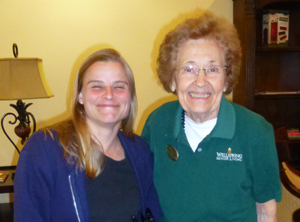 Meghan McCormick - Resident Assistant
Wellspring Senior Living - Knoxville, TN
Nominated by Cody Davis, Wellness Director
"Meghan is a dedicated worker in the memory care neighborhood of Wellspring Senior Living. Her hard work and enthusiasm is exactly what our Memory Care neighborhood needs. She truly is the person that the residents and families depend on."


This is the poem that was read in their honor -

The Caregiver - by Lorraine Yates
Caregiver - Two words that come together when you speak of someone dear.
It is that special person, if you call, they're always near.
You'll see that in a "Caregiver" - Love comes from in their Heart.
With loving hands and guidance they help each new day start.
Caring for the fragile soul, giving day to day.
They meet the needs of loved ones spreading love along the way.
A gentle touch, a helping hand, a glow that makes you smile.
Always near to a comfort and go that extra mile.
They want no fame or glory, and it puts their mind at ease,
to know they've helped a loved one deal with Alzheimer's disease.
So show a little kindness to caregivers across the land.
You may be the one someday who needs a helping hand.
With peace and understanding throughout the end of time.
There's someone who will care for you and make your spirit shine.
We are so very pleased to have these outstanding individuals providing care for seniors afflicted with Alzheimer's in Tennessee.